Remote Work Metrics at a Glance
At the start of the COVID-19 pandemic in March 2020, state agencies had to respond quickly to move staff and operations into virtual environments, most with very little advance planning. As the pandemic progressed, agencies became more adept, more efficient, and more successful in remote work environments, proving that many operations and employees can serve the public efficiently from a virtual workplace.
Overview of remote work pre-pandemic and the need for ACW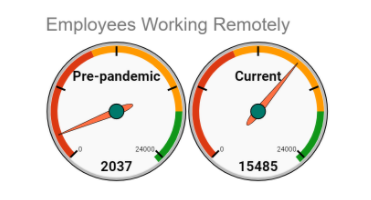 Prior to March 2020, less than 10% of State employees worked remotely. Several agencies were participating in the state's telework program, with some employees teleworking on specific days while  other employees worked from virtual offices.
Results: Increasing the Ability to Work Remotely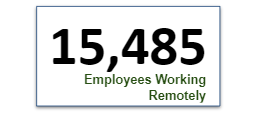 Today's technology means work happens anywhere, everywhere, and around the clock. Arizona is leading the way among state governments by embracing a culture of remote work. Removing the requirements to report to a physical location (when possible) affords more work/life flexibility, increases employee satisfaction and productivity, and results in better service to the citizens of Arizona. 
As of August 2021, 40% percent of State of Arizona employees worked remotely, either full-time from a virtual office or on a periodic telecommuting schedule. Spurred by the COVID-19 pandemic, what started as an emergency response in March 2020 quickly proved to be a successful pilot. Based on this early success, Arizona set a course to create a new culture, one built on trust, accountability, flexibility, and improved service to its citizens.  
Number of State employees participating in remote work since the start of the pandemic. Updated every two weeks based on payroll data.
Results: Saving Space and Consolidating Services to Streamline Productivity
With this increase in remote work, the State of Arizona has been able to consolidate its physical footprint, vacate rented office buildings, and re-locate agencies that do similar work into combined workspaces that increase collaboration and better serve constituents.

As of September 2021, this consolidation has saved taxpayers more than $7 million in rental savings. This has also reduced the overall physical footprint by 552,891 square feet, which is the equivalent of approximately nine football fields! 
Results: Increasing Employee Satisfaction and Retaining Institutional Knowledge
In April-May 2021, State employees participated in an engagement survey that included questions related to employees' experience with remote work. The charts below reflect the responses from employees who were participating in remote work one or more days per week.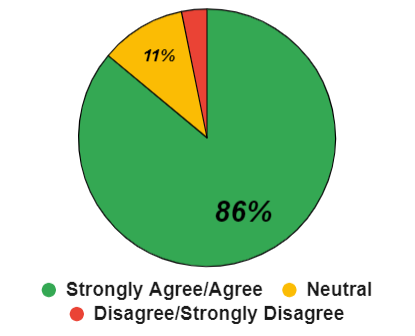 Remote work has had a positive impact on my work experience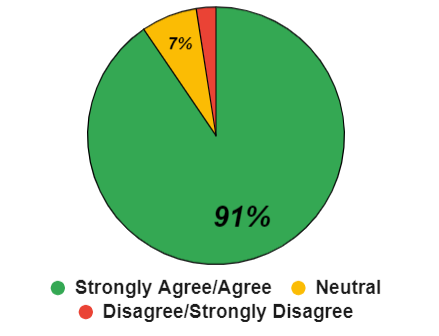 My immediate supervisor gives me the support I need to successfully work remotely.
Results - Environmental Impact
By working remotely, state employees in Maricopa County reduced their commute by over 134 million miles from February 2020 through August 2021. This resulted in averted emissions of nitrogen oxides (NOx) and carbon dioxide (CO2), which helps improve air quality.
Notes: The average miles per trip was obtained from the 2021 annual travel reduction survey and the number of telework days was obtained from the state's human resources information system (HRIS system). The Arizona Department of Environmental Quality (ADEQ) Air Quality Division provided the average emissions rates for Maricopa County to calculate emissions averted.